ZERO NOODLE OMELETTE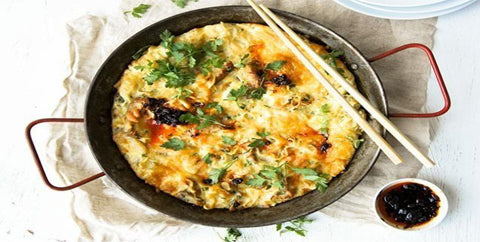 𝐈𝐍𝐆𝐑𝐄𝐃𝐈𝐄𝐍𝐓𝐒:⁣
1 pack ZERO Noodles
1 cup chicken chopped cooked
2 tsp parsley finely chopped
2 eggs lightly beaten
2 tbs cheese grated
𝐃𝐈𝐑𝐄𝐂𝐓𝐈𝐎𝐍𝐒:⁣
1. Combine noodles, chicken, parsley and eggs in a bowl and mix well.
2. Pour the mixture into a 20cm non-stick fry pan.
3. Cook over medium heat until centre is just firm.
4. Sprinkle cheese over top of omelette and put under a hot grill until cheese is melted and browned.